Geographical indications in Europe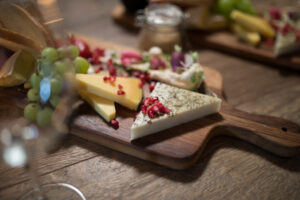 "Three European Union schemes of geographical indications and traditional specialties, known as protected designation of origin (PDO), protected geographical indication (PGI), and traditional specialities guaranteed (TSG), promote and protect names of agricultural products and foodstuffs.[1] Products registered under one of the three schemes may be marked with the logo for that scheme to help identify those products. The schemes are based on the legal framework provided by the EU Regulation No 1151/2012 of the European Parliament and of the Council of 21 November 2012 on quality schemes for agricultural products and foodstuffs.[2] This regulation applies within the EU as well as in Northern Ireland. Protection of the registered products is gradually expanded internationally via bilateral agreements between the EU and non-EU countries. It ensures that only products genuinely originating in that region are allowed to be identified as such in commerce. The legislation first came into force in 1992. The purpose of the law is to protect the reputation of the regional foods, promote rural and agricultural activity, help producers obtain a premium price for their authentic products, and eliminate the unfair competition and misleading of consumers by non-genuine products,[3] which may be of inferior quality or of different flavour. Critics argue that many of the names, sought for protection by the EU, have become commonplace in trade and should not be protected.[4]
These regulations protect the names of wines, cheeses, hams, sausages, seafood, olives, olive oils, beers, balsamic vinegar, regional breads, fruits, raw meats and vegetables.
Foods such as gorgonzola, Parmigiano-Reggiano, feta, the Waterford blaas,[5] Herve cheese, Melton Mowbray pork pies, Piave cheese, Asiago cheese, camembert, Herefordshire cider, cognac, armagnac, and champagne can only be labelled as such if they come from the designated region. To qualify as roquefort, for example, cheese must be made from milk of a certain breed of sheep, and matured in the natural caves near the town of Roquefort-sur-Soulzon in the Aveyron region of France, where it is colonised by the fungus Penicillium roqueforti that grows in these caves.[6]
This system is similar to national appellation systems used throughout Europe, such as the appellation d'origine contrôlée (AOC) used in France, the denominazione di origine controllata (DOC) used in Italy, the denominação de origem controlada (DOC) used in Portugal, the denumire de origine controlată (DOC) system used in Romania and the denominación de origen (DO) system used in Spain. In many cases, the EU PDO/PGI system works parallel with the system used in the specified country. In some cases it is subordinated to the appellation system that was previously instituted, particularly with wine, for example, and in France (in particular) with cheese, where for example Maroilleshas both PDO (appellation d'origine protégée (AOP) in French) and AOC classifications, but generally only the AOC classification will be shown."
wikipedia.org